Google Account Verification, also known as the FRP (Production unit Reset Protection), is essential in fighting unauthorized get entry to on your cellular phone. However, it's additionally a double-edged sword; while you omit your password, you're going to, too, be locked out of your cellular phone.
To prevent the latter from going down, you'll have to offer protection to your self with the knowledge of recommendations on the right way to regain get entry to on your cellular phone yet again.
In this submit, I'm going to proportion some tips on bypassing FRP on your Samsung sort Android cellular phone shall you omit your password and get locked out.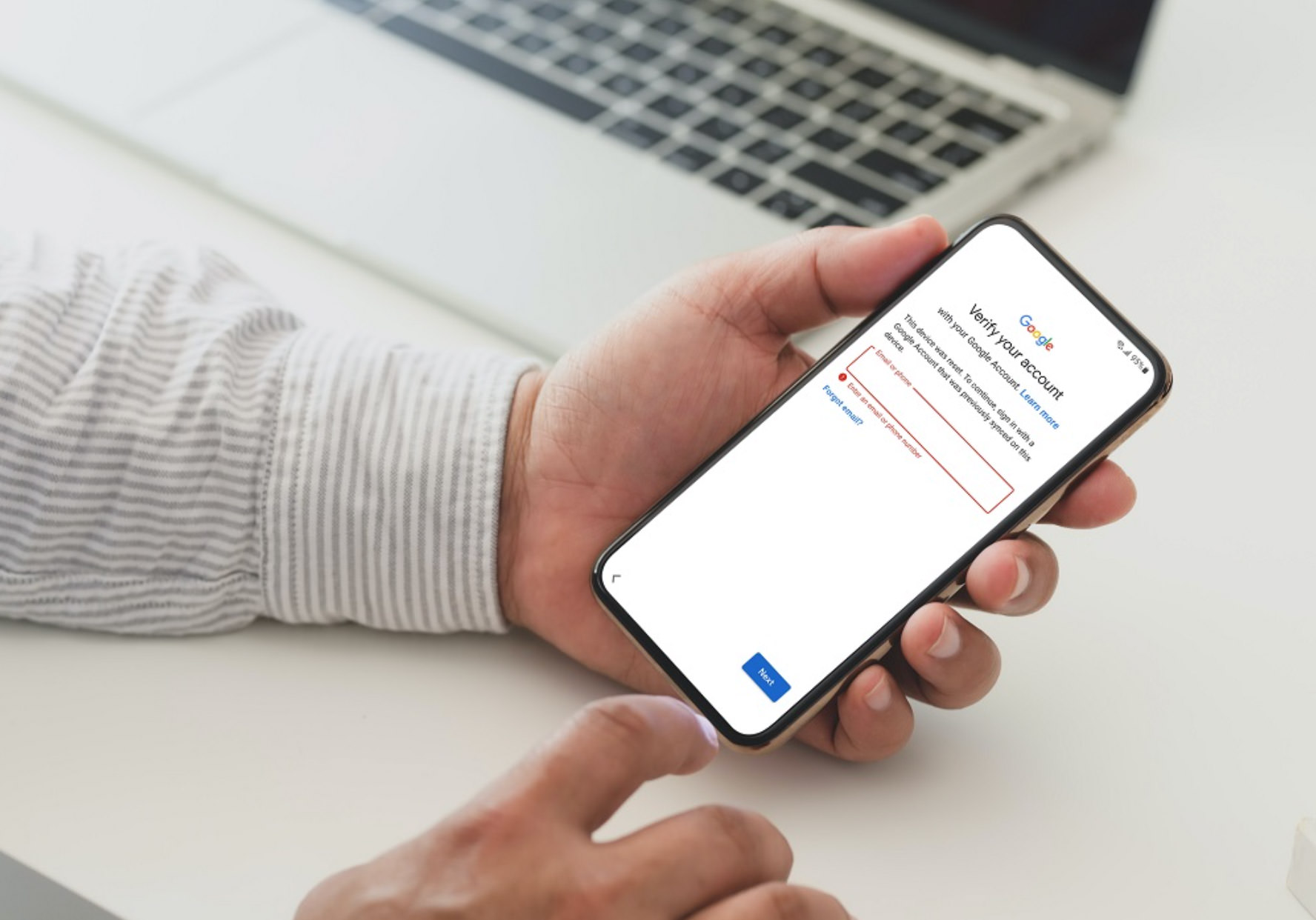 Choices of iToolab UnlockGo for Android
AFAIK Samsung hasn't developed a tool to have the same opinion bypass FRP, and if you are to regain get entry to on your locked cellular phone, a 3rd celebration app could be your resolution.
Enter iToolab's UnlockGo for Android.
This app works without requiring any root permission from your instrument. Inside of clicks – in reality 5 – it gets rid of Google's lock utterly.
Listed here are further choices of this app that make it a great Samsung FRP unlocker:
It has 99.3% effectiveness in bypassing Google FRP lock on Samsung devices from android style 5 to 12.
it's suitable with most Samsung cellular phone and tablet models.
It's easy to use for newbie consumers.
Completes procedure speedy.
How you'll Liberate Samsung Phone with UnlockGo (Android)?
Below is a step-by-step knowledge to using iToolab UnlockGo to keep away from the Samsung FRP lock. If you happen to don't appear to be into learning, there's a video knowledge too.
Step 1: Download UnlockGo on Your PC
Download the UnlockGo app from its dependable internet web page. Arrange and run the app. UnlockGo is available for every House home windows and Mac.
Obtain iToolab UNlockGo (Android)
Step 2: Get began the Process
Connect the locked Samsung instrument on your PC by way of a USB cable. Click on on "Remove Google Lock (FRP)" and then "Get began" to continue.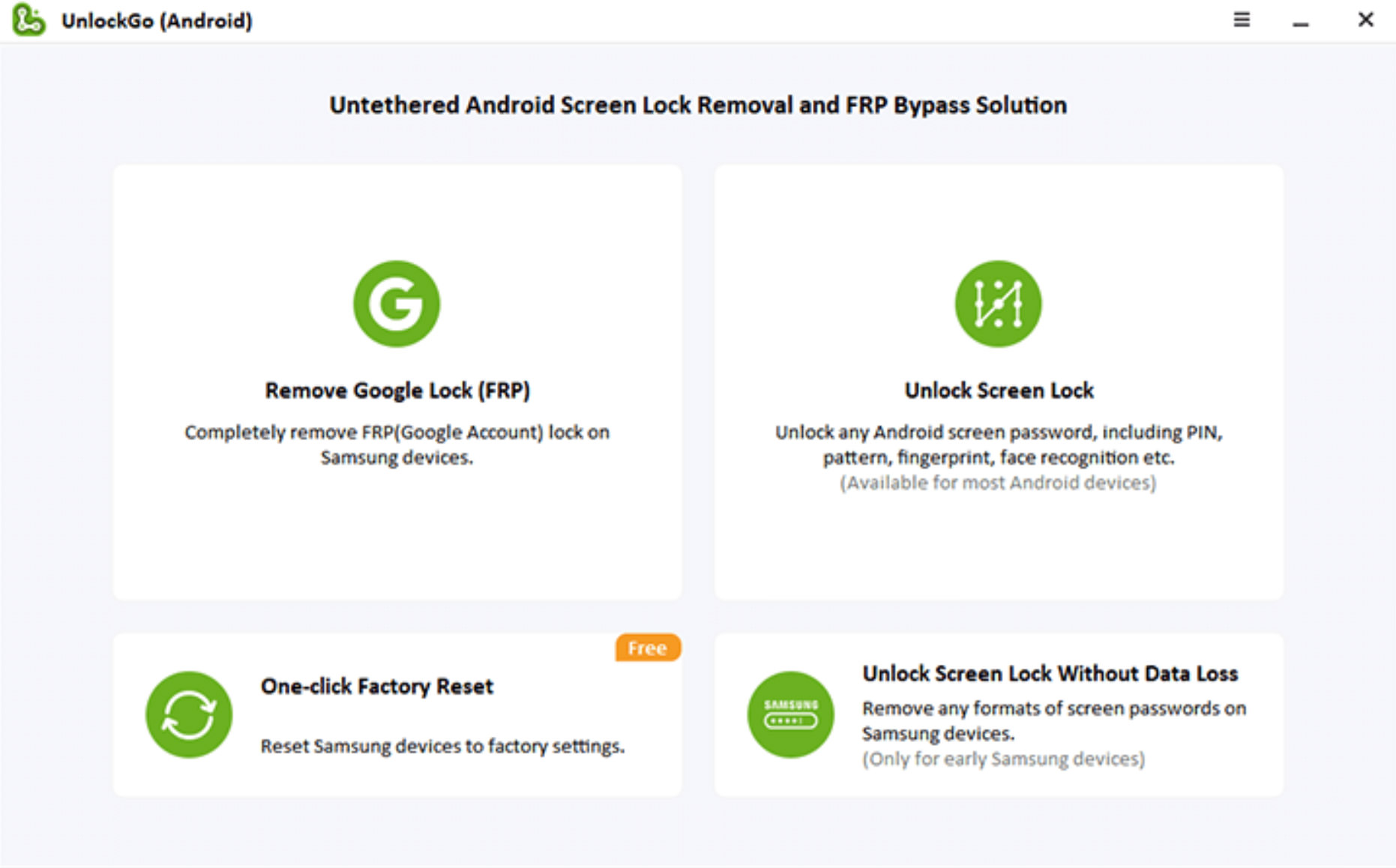 Select "All Android Diversifications" on the next visual display unit, then click on on "Next".
Step 3: Open Samsung Diagnostics Menu
A pop-up window will appear with instructions on how to enter the Samsung Diagnostic menu. Apply the on-screen instructions, then click on on "Next" to permit "USB Debugging" on your instrument.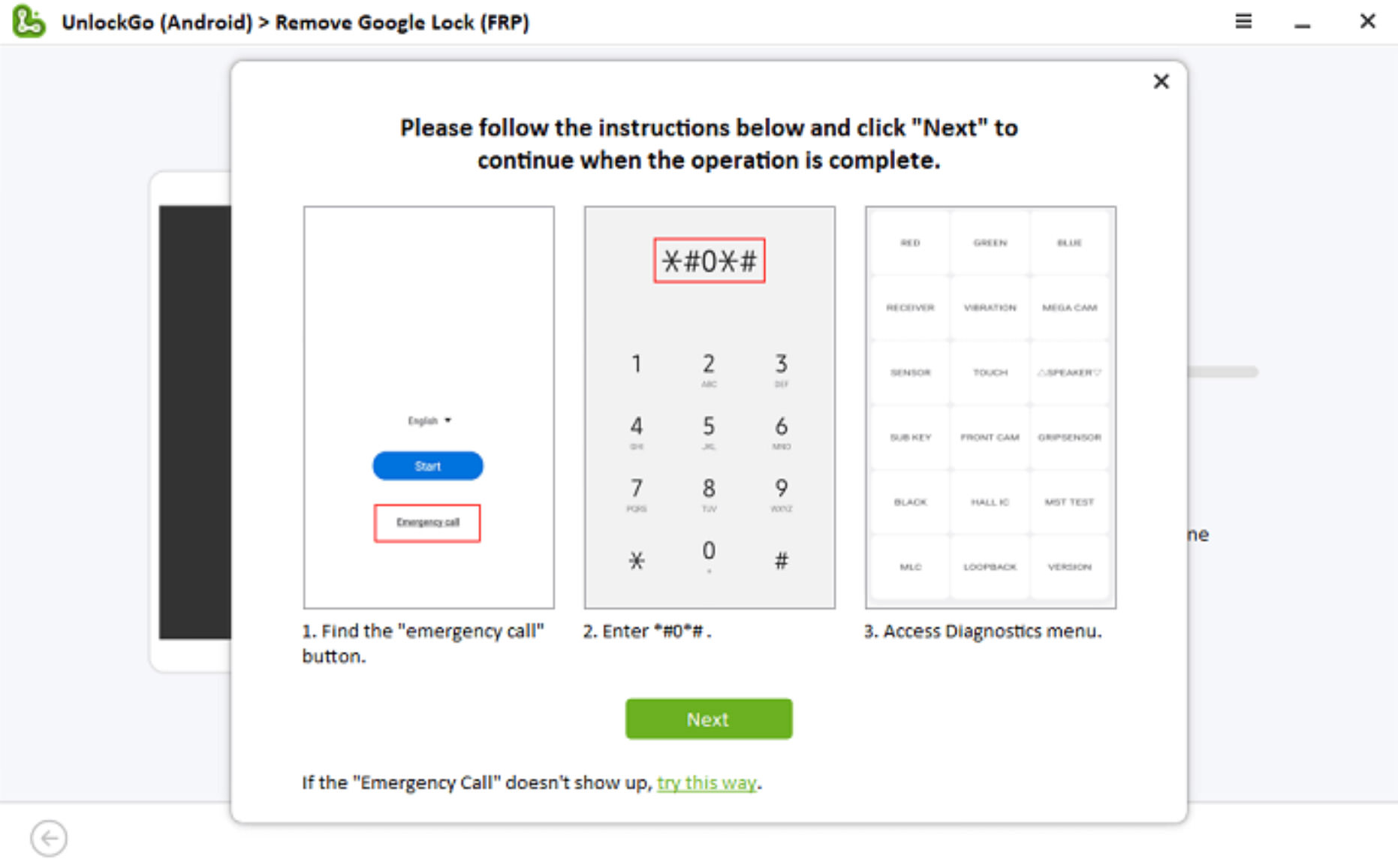 Step 4: Remove Google FRP
The app will take a couple of seconds to keep away from, and the instrument may also be rebooted once the process is complete.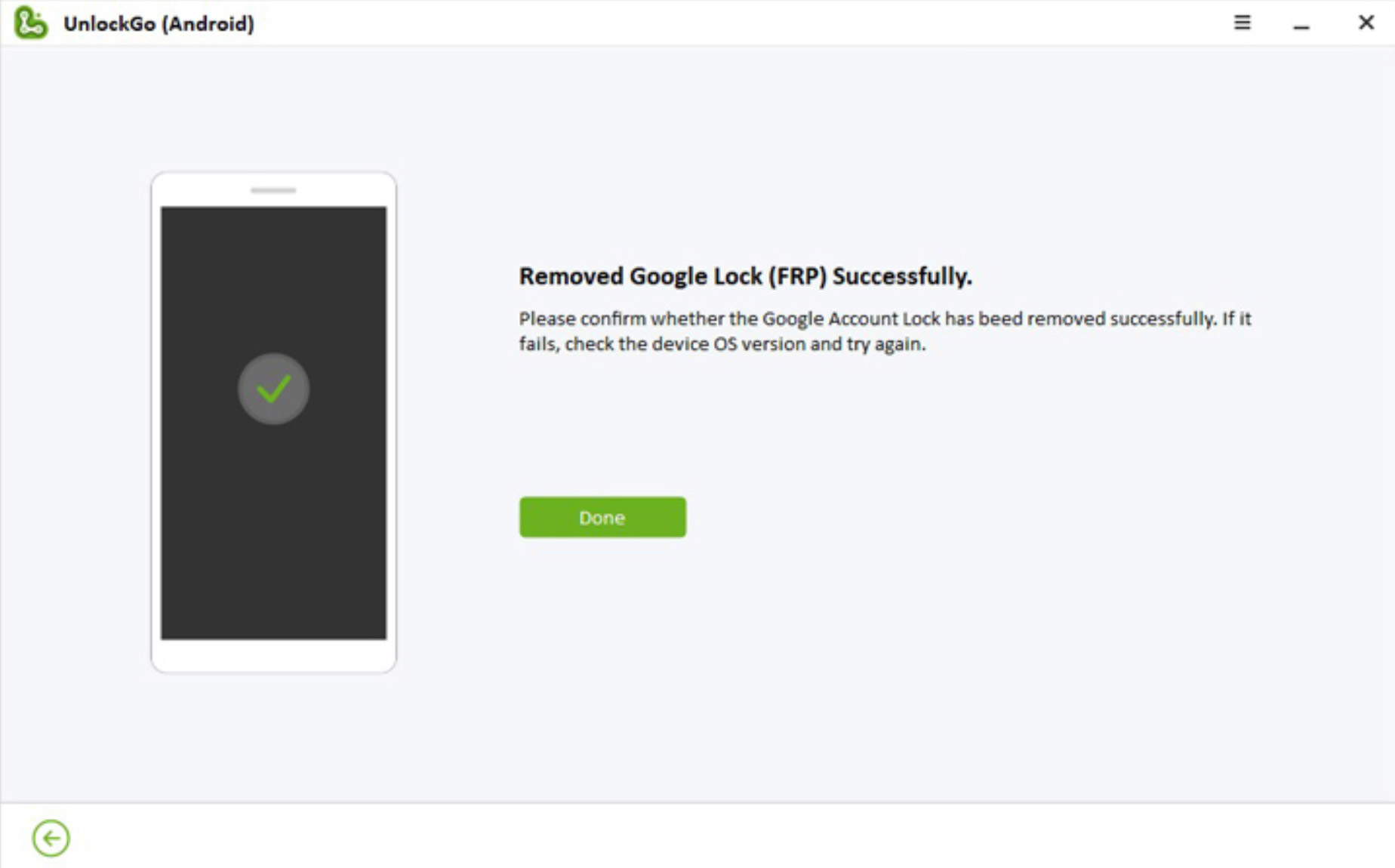 Unlocking Samsung Phone w/o Password or Google Account
Additionally, the UnlockGo app provides a simple way to unencumber your android cellular phone with no need a password.
Proper right here's how it's finished:
Step 1: Connect Your Software
Connect your Samsung instrument on your PC or Mac by way of a USB cable. Click on on on the "Liberate Show Lock", then click on on "One-click remove visual display unit lock from Samsung".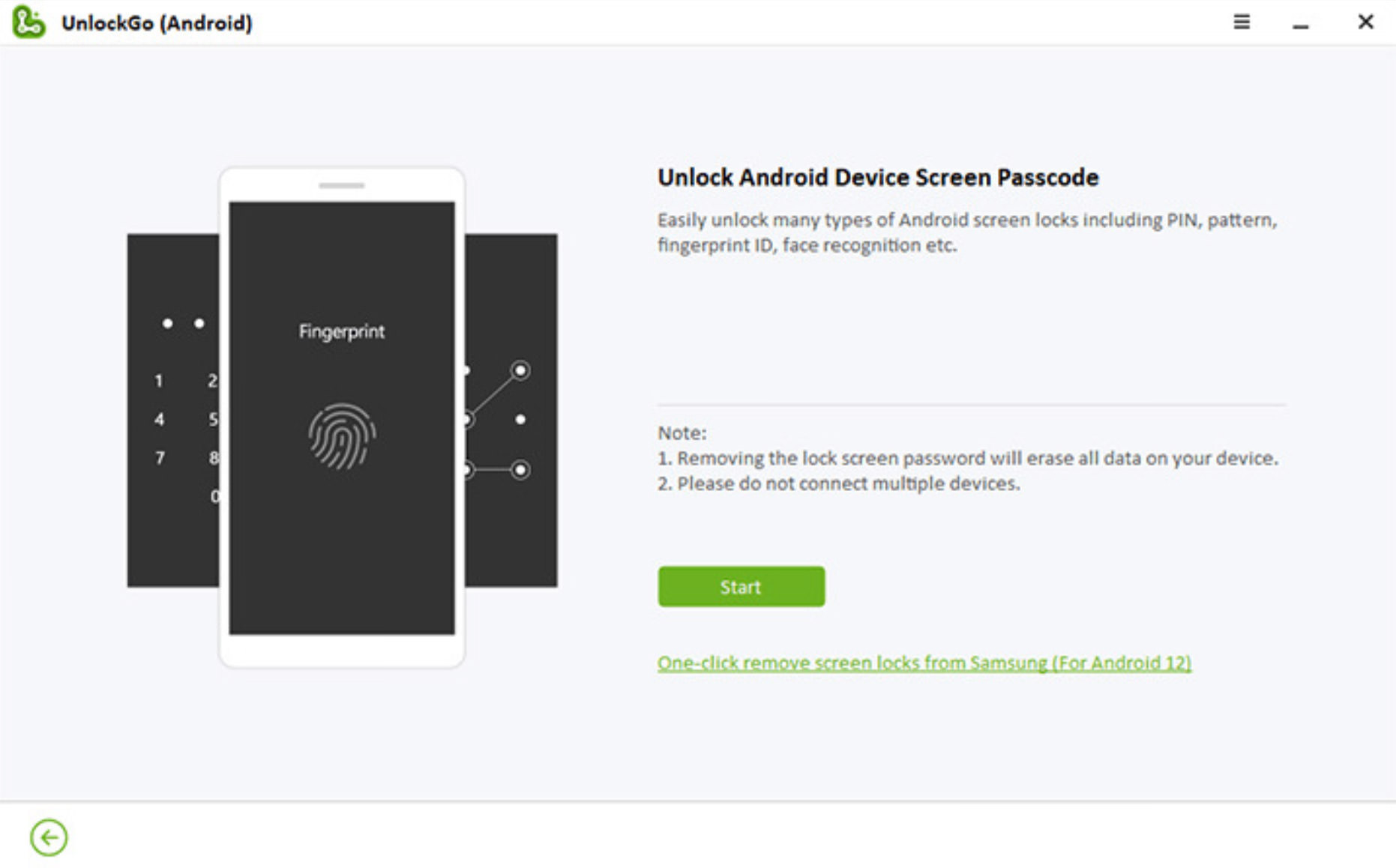 Step 2: Liberate Your Software
Apply the on-screen instructions and click on at the "Liberate" button to continue. The lock visual display unit then goes away, and your instrument will restart.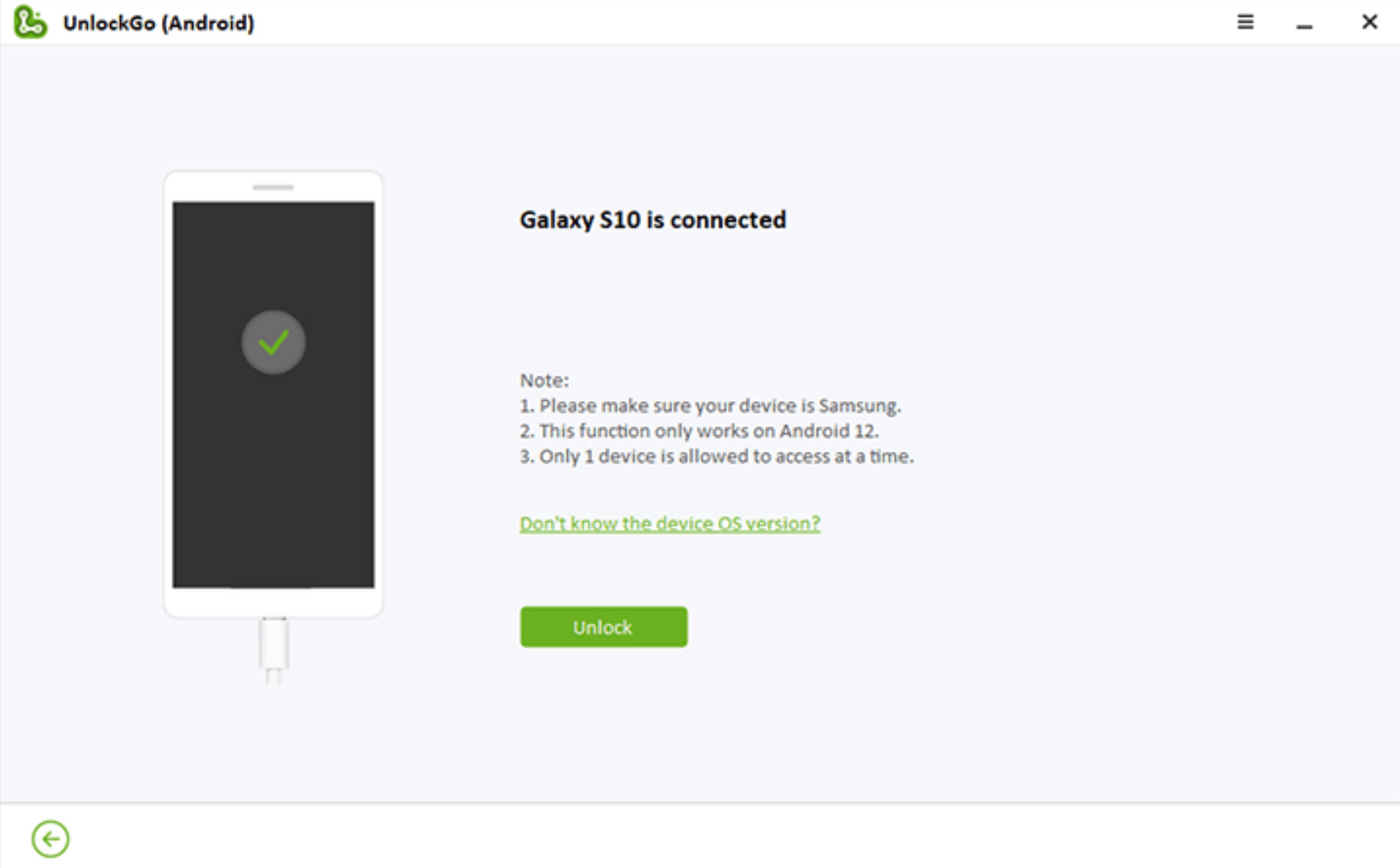 When Bypassing Google Lock is Sought after?
I've confirmed you the how; now let's take a look at the when. Listed here are some possible scenarios when you will need to bypass Google lock on your Samsung instrument.
1. Selling a Samsung instrument, then again forgot the password
You'll be capable to't and shouldn't advertise your provide Samsung instrument without casting off your Google account. If you happen to intend to advertise then again forgot the password on your Google account, then the bypassing operation may also be sought after.
2. Bought a pre-owned locked Samsung instrument
Whilst you've were given unfortunately purchased a locked Samsung instrument from a provider supplier or provider, then bypassing it yourself would perhaps save you a large number of hassle.
3. Running a cellular phone buyback and re-selling trade
If you're inside the buyback and pre-owned phone-selling trade, you're going to return upon various problems with the phones to obtain. And the Google FRP problem is evidently probably the most common ones. The ability to keep away from FRP yourself should be one of the knowledge you'll have to know.
Bonus: Prevention
Final then again not least, if you want to avoid being locked-out utterly, it's endorsed that you just remove the Google account first quicker than showing a producing unit reset. And to do that:
Cross to "Settings" > "Accounts and Backup"
Tap "Organize Accounts", then select your Google account
Select "Remove Account", then verify it.
When introduced on, take a look at your id and do away with the Samsung FRP lock.
The submit Bypassing Google Lock on Any Samsung Telephones with UnlockGo appeared first on Hongkiat.
Supply: https://www.hongkiat.com/blog/remove-samsung-frp-unlockgo/
WordPress Maintenance Plans
|
WordPress Hosting